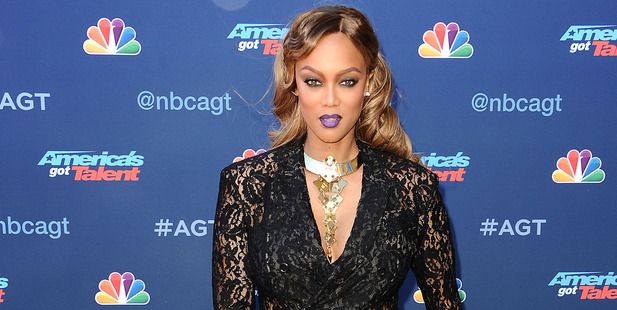 America's Got Talent has also got some big trouble on its hands ahead of its May 30 season premiere: An auditioning act is suing the show's production company after claiming that new host Tyra Banks traumatized her child. A contestant, who is identified only as Jane Doe, claims that the former model humiliated her daughter, who is a minor, during a taping on March 19 - but her daughter wasn't the one performing. It's alleged that Banks "shook Mary's shoulder, pulled Mary's hair back and physically manipulated Mary", something their daughter did not stop because she was "fearful".
Banks 'insinuated Mary was accidentally conceived, made fun of [her mother's] performance and ridiculed [her mother's song] in front of Mary, all in font of active cameras that were filming Mary, ' reads the complaint.
The woman said that her daughter suffered "emotional distress" after the incident, seeking unspecified damages for "negligent infliction of emotional distress, civil battery, and civil assault".
When someone signs up for a reality competition show, they can probably guess that the only thing nastier than their fellow contestants will be the judges.
Their musical duo, in which "Jane" sings and writes the song and her husband plays guitar, elected to perform a song about motherhood that was written with "Mary" in mind in their first audition, which led to a call from producers ahead of their trip to Los Angeles.
Homecoming' trailer, Spidey has a spiffy new costume - designed by Iron Man
That said , he's enabled a "training wheels protocol" in Peter's suit, that limits many of its functions to the bare essentials. This is the first time we've seen this look on screen, but it's appeared in several iterations of the costume before.
Summary: A married couple is suing Tyra Banks and America's Got Talent for allegedly embarrassing their daughter during a taped performance. The lawsuit says AGT "maintained that they will exploit all footages of Jane and her husband and that they will not air those footages in their entirety". Jane says their performance was ridiculed by the judges and Banks.
The documents also state that Jane asked AGT not to broadcast the audition or Mary's reaction.
The show's executive producers have since agreed to edit Mary out of the episode, acknowledging her "emotional distress".
Fremantle Media (the parent of Marathon Productions), the production company and Banks have not commented on the lawsuit.